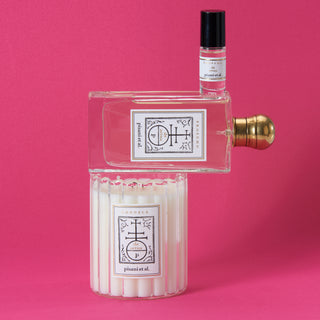 La Nostra Storia
After years of beautiful experiences in the world of luxury goods, three friends decided to embark on an adventure. We — Daniela Pisani, Robin Marino and Lynn Shapiro — have created a little world to share with friends, and with friends of friends.

We're celebrating the artisanship and materials of Italy, a fascination with travel, and the magic of reinvention: things we love.
Defying categories, seasons, and trends, we're on a life-long journey of enjoyment and discovery — and along the way, we're creating some treasures to share.

Come join us.
Et al.
Acknowledgements

In the best of all possible worlds, our friends bring out the beauty in us. We're honored to have support and encouragement from a small army of talented people we admire, without whom Pisani et al. would never have been born:

Alessandro Besana, Alessandro Floriani, Alessandro Petrini, Alessio Albini, Andrea Catallo, Andrea Colombo, Andrea Roncari, Andrea Scotti, Angelo Calvano, Antonella Ghiroldi, Antonio Ulivieri, Carlo Ardito, Claudio Baratti, Davide Albertario, Dario Poggiagliolmi, Davide Ciampi, Davide Paleari, Egidio Salvini, Elena Floriani, Federico Graziani, Franca Gestri, Francesco Lotti, Franco Corradi, Gabriella Gestri, Giada Baragli, Giordano Todeschini, Graziano Larocca, Ingrid Menici, Laura Castano, Laura Floriani, Luigi Corbella, Maria Lavezzo, Mariano Scollo, Matteo Biagini, Matteo Merlini, Matteo Petrini, Martina Piccardi, Maura Pagni, Maurizio Ferri, Maurizio Manfredi, Mauro Baratti, Maximillian Canepa, Nicola Benetello, Paolo Incardona, Piero Poli, Renzo Lupi, Renzo Morabito Roberto Lupi, Roberto Petri, Romina Biasolo, Samuele Scroppo, Serena Brambilla, Sokol Gjepali, Stefano Palchetti.

Also, grazie mille:

Carla Sozzani, Christina Conocenti, Elia Pettinari, Eric Conocenti, Iari Sani, Luca Pettinari, Piergiuseppe Moroni, Vanessa Barbieri.